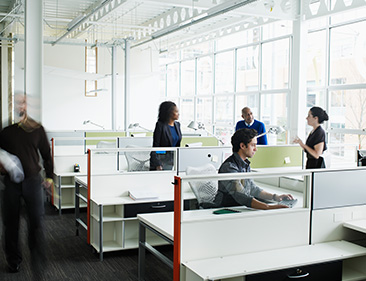 With more than 110 years of moving experience under our belt, it's safe to say that Stevens Worldwide Van Lines knows what is required to fulfill all types of moving and storage needs. Commercial moving needs are no exception. At Stevens, we have a team of office and industrial moving professionals prepared to assist you. Whether it's relocating rooms within your existing building, reconfiguring space, installing equipment or moving into a new complex, Stevens is The Way To Move™.
Our professional team of experts will assist you with:
Project management
Office and industrial moves
Asset management/storage
National move management
MAC services
Records management
Equipment moves
File relocations
Server relocations
Laboratory moves
Asset Management
Stevens Worldwide Van Lines offers a wide range of asset management and warehouse services for your business or organization. In more than 250 warehouses across the nation, we have the technology, experience and cost-effective programs to manage your company's assets. We can also manage your inventory in multiple markets with a single database.
Stevens is capable of handling any asset management need, including:
Fixtures
Supplies
Office furniture
Medical equipment
Computers
Trade show booths
Inventory
Business records
For more information on our commercial services, please contact us for a free quote.