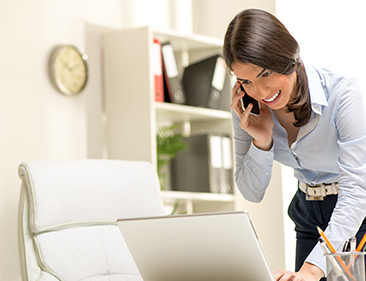 Asking your employees to relocate isn't just about asking them to change jobs—it's a major life change. We know you take that seriously, and so do we. At Stevens, we work closely with human resource professionals across a variety of industries to provide relocation services and ensure a smooth, hassle-free moving experience for employees. Learn more about how we work with HR professionals below or contact Stevens today.
Services and Consulting
With a network of about 400 of the highest quality interstate agent service providers, we are uniquely positioned to help relocate your employees just about anywhere in the United States. We will work closely with you and your employee to make sure the relocation is successful and worry-free, whether your employee is moving across the country or across the globe.
Benefits
What are the benefits of choosing Stevens? We're not just a corporate mover—we're a full-service planning partner. From start to finish, we'll be at your employee's side. And as a corporate customer, you can count on receiving the industry's most competitive pricing and aggressive performance guarantees. We're also one of the only companies in the industry to be employee-owned, which means that every Stevens Van Lines employee has a vested interest in a successful move.
We also have strong relationships with relocation management companies, independent move managers, brokerage firms and other third parties that will help to ensure success. And throughout the move, we'll help manage the smallest details of your employee's move while keeping the big picture—a smooth relocation—firmly in mind.
Questions
Interested in learning more? We invite you to check out our FAQ page to find out more, or read about our valuation and protection plans, which offer your employees an extra layer of security. You can also contact your local agent to get started or contact us directly.
Workforce Mobility Solutions
Historically, relocation programs were associated with employee benefits as a need to fulfill operational and logistical issues. Rarely were relocation benefits associated with career progression or long-term corporate goals.
With the demands of today's workforce, talent shortages and economic pressures, Stevens Worldwide has seen a shift in workforce mobility trends. Today's talent management strategies are trending toward more short-term assignments designed as career development opportunities for meeting long-term organizational and employee objectives.
Our goal is to be your partner in these strategies, acting as an extension of your company to add value to relocation policies and help employees settle faster.
Relocation Packages
In working with our corporate clients, Stevens recognizes the need to meet organizational and employee objectives. No two organizations are the same, and relocation needs vary. Below are some ways we've worked with corporate clients to create seamless transitions for employees.
Employee Choice— Many of our clients give transferring employees different relocation options. Transferees may request standard policy, to have Stevens cover the move, or to complete the move themselves. Our relocation service center is an excellent tool for companies and employees working through a relocation.
Lump Sum — Some companies prefer to allocate a specific budget (lump sum) for employee relocations. We work directly with transferees to build a relocation solution that addresses their needs, time constraints and budget.
Reimbursement Options — Companies often choose to reimburse employees after relocation is complete. Reimbursement plans may be partial (only specific moving expenses covered) or full (all moving expenses covered).
Relocation Management Companies (RMC) — Our clients occasionally choose to outsource relocation management responsibilities to an RMC of their choice. We understand the importance of following outlined processes while simultaneously supporting your organization's needs, and we have a successful track record working with significant RMCs.
Relocation Benefits
As your full-service moving partner, Stevens Worldwide assists your employees and their families throughout corporate relocations to ensure they arrive safely and can settle comfortably into their new homes. Our relocation consultants help minimize the pressure associated with moving, allowing employees to focus on creating a seamless transition at home and in the office.
Benefits of partnering with Stevens for corporate relocations include:
Access to our relocation service center, where experienced relocation consultants are on hand to assist employees with every stage of their move.
Full-service moving capabilities including packing, storage, long-distance shipping and specialized handling for oversized or bulk items.
Double the difference invoicing to protect companies from billing errors and additional charges. If you are charged too much for relocation, Stevens will credit your organization "double the difference" of the error toward your next move.
Top-rated drivers who are experts in hauling, customer service, claims reduction and safety, and who will get belongings to their destination in a safe and reliable fashion.
Workforce Mobility with Stevens
Stevens Worldwide Van Lines is your partner for reliable workforce mobility solutions. Our relocation experts understand how to navigate the complexities and nuances of corporate relocations, simplifying processes for you and your employees.
Make moving a positive experience for your workforce. Get in touch with a Stevens relocation consultant today.